In Memory
James M. Stavas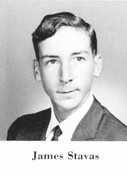 NAPA - Jim Stavas, 57, died on Oct. 1, 2007, after a 20-month battle with a rare metabolic disease, with his wife and children at his side. He was a native Napa born to Louis and Ruby Stavas on Aug. 29, 1950. He graduated from Napa High School in 1969 and went on to earn his degree from Solano College.

Jim married the love of his life, Carol Robinson, on Sept. 20, 1980 in Napa. They renewed their vows on their 25th anniversary in August 2005 in Maui, Hawaii, and celebrated their 27th year together just last week.
He served his community for 30 years as captain of the American Canyon Fire Department, retiring on Dec. 30, 2006. He also served as a volunteer for Napa County Fire Department and was a reserve for the Napa City Fire Department. He loved his job and the firefighters who served with him.

Besides being a firefighter, Jim loved the outdoors and rides on his Harley. But most of all, he loved his family and spending time with Carol and their three children, Bradley, Katie and Brenden. His devotion, loyalty, love and humor will be missed by his department, the community, his friends and most of all, his family.
Jim is survived by his wife, Carol; children, Bradley, Katie and Brenden; his mother, Ruby Brand; sister, Sondra Dudley; and father and mother-in-law, Gerald and Rita Robinson.

Services will be held Oct. 4, 1 p.m., at First Christian Church, 2659 First St., Napa. Chaplain Lee Shaw will officiate. The graveside service with the Final Alarm will follow at Napa Valley Memorial Park, 2383 Napa-Vallejo Highway. In lieu of flowers, memorial contributions may be made to the Jim Stavas Family Fund at the Napa Community Bank or the National Urea Cycle Disorders Foundation, 4841 Hill St., La Canada, CA 91011, www.nucdf.org. Arrangements are under the direction of Richard Pierce Funeral Service and condolences may be sent to the family on-line at www.rpfsc.com.