In Memory
Randy Gene Shull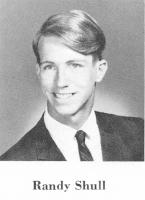 Randy Gene Shull
1950-2014
Randy Shull died on December 12, 2014 due to complications from liver cancer. He was 64.
Randy was born on October 20, 1950 in Oakdale, California. He graduated from Napa High School in 1969. Shortly after graduation he enlisted in the Air Force. Following a 4-year stint he settled in Pismo Beach, California where he lived with his son, Brian. He worked at Camp San Luis Obispo as a lead mechanic and served in the National Guard until he retired at the age of 62.
Randy was an accomplished artist. His specialty was pencil drawings. He loved the outdoors and spent as much time as he could at the beach and hiking.
Randy was a kind, patient, caring father and son. He and his son Brian cared for his mom in her lengthy battle with Alzheimer's. He had a great sense of humor and sarcastic wit.
Randy is survived by his son Brian Shull of Paso Robles, California and sister Elaine Shull Peachey of Auburn, Georgia.