In Memory
William J. "Bill" Nance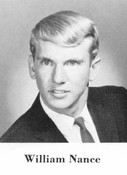 Bill Nance, 54, died at Swedish Medical Center on Sept. 3, 2005 of brain cancer. He was born to Richard and Marjorie Nance on July 4, 1951.
Bill graduated from Napa High School, then attended Napa Junior College where he received his training as a respiratory therapist. He worked at Queen of the Valley Hospital in the Intensive Coronary Care Unit for five years where he met Debbie Brisbon.

They married in 1978 and moved to Sandpoint, Idaho. He was employed at Bonner General Hospital as a respiratory therapist for 22 years before moving to Seattle, Wash.
He was preceded in death by his father, Richard Nance.

Bill is survived by his daughter, Lindsay Nance; son, Jordan Nance; his mother, Marjorie Nance; his former wife and best friend, Debbie Nance; a sister, Betty (John) Wood and several nieces and nephews.