In Memory
Christina M. Meyers (Conlee)
Christina Meyers Conlee
1951 - 2018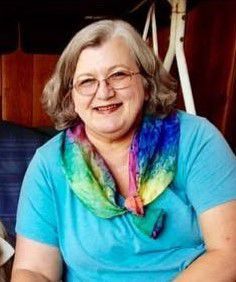 Our beloved wife, mom, Grammie, sister, Auntie and friend went to be with the Lord June 4, 2018. Christina Marie Meyers was born to Emil and Martha Meyers September 13, 1951 at Parks Victory Hospital. Christina "Chris" grew up in Napa, attending Dee T Davis Elementary, Redwood Middle and Napa High Schools and was an active Rainbow Girl and member of her church. Her Christian faith was the cornerstone in her life and it was at church camp Chris met the love of her life, Tom Conlee at the age of 16. They wed shortly after her 18th birthday and made their home in Santa Clara County eventually welcoming three children—Tom Jr., David and Amanda.
Before Google there was Christina Conlee, friends and family were always impressed by her wordsmithing abilities and intelligence—history, religion, cooking—she was regularly called upon to proof a paper or advise on a recipe. (If any typos or grammatical errors exist in this, it is because she was unavailable to review.) She worked for many happy years as the Office Manager at De Anza Bible Church (which later was named Abundant Life) as well as teaching Sunday school and playing the piano for services. After relocating back to Napa in 1998 she spent many entertaining years working with her brother ("he made her laugh everyday") at the construction company started by their father, until her retirement in 2016.
Family was central in Chris' life. Many happy days for the Conlee's were spent at campouts with church and friends. Chris and her mom would organize annual summer trips for all the Meyers grandkids to Disneyland, Tahoe, Yosemite. Each trip was thoughtfully planned and researched—without the benefit of the internet—by Chris to make the most of the experience for the family. In 1983, Chris and Martha took all seven grandchildren on a six—week motorhome trip to South Dakota to attend a reunion commemorating the family's 100th year in America. She organized weekly "experiment" cooking nights to try new recipes and "date nights" with her grandchildren. She was a talented crafter and seamstress and spent countless hours making homemade gifts for friends and family, including her daughter's wedding dress.
Chris shared a love of the San Francisco Giants and all things Disney with her children and grandchildren. The Christmas season may have been her favorite though. She was an avid collector of Hallmark ornaments and each year she looked forward to decorating her home. As her collection grew so did the number of trees and garlands to accommodate and the weeks required to set out her treasures. Some years she didn't finish decorating until January. In her spare time, she also enjoyed genealogy and had traced several branches of family back hundreds of years.
Chris is survived by her husband of 49 years Tom, children Tom Jr. (Jennifer), David (Jenny), Amanda Salaiz (Arnie); grandchildren Tyler (Lanie), Megan, Olivia, Elena, Anna, Liam, Xander, Levi, Wyatt and great-granddaughter Paislee; brother Emil "Corky" Meyers (Terry), sister Ronda Connor and aunt Norma Mantor, as well as numerous nephews and nieces. She was preceded in death by her father and mother.
Her quick wit, intelligence, and selfless heart will be missed by all who knew her.
Chris was passionate about supporting a former student and current missionary to France, Joy Krajicek. Memorial contributions can be made in Chris's name to Joy's ministry through AGWM by going online to https://agmd.org and type in "Joy Krajicek" or account number 2792992. Contributions can also be sent by mail to AGWM at 1445 N. Boonville Ave, Springfield, MO 65802
There will be a Celebration of Christina's life on Saturday, June 23rd at Hillside Christian Center, 100 Anderson Road, Napa at 2:00. Friends are encouraged to wear Chris' favorite color—yellow.
https://napavalleyregister.com/lifestyles/announcements/obituaries/christina-meyers-conlee/article_0e2733ea-98b4-5628-83d9-09768e8e1efc.html