In Memory
Jerry Lee Daughtry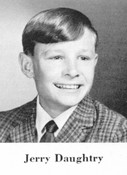 EL CAJON

On Jan. 30, 2007, Jerry Lee Daughtry was called home to the Lord.
Jerry was born at Parks Memorial Hospital in Napa on Nov. 7, 1950. He was a 1969 graduate of Napa High School. He served in the U.S. Navy from 1970 to 1973 and completed four tours of duty in Vietnam. After his service, Jerry was employed at Mare Island Naval Shipyard and soon relocated to San Diego. Jerry enjoyed camping, coin collecting, fishing and spending time with his family. Jerry was very active in his church home in San Diego and was a regular member of their baseball team.

Jerry is survived by his brothers, Barry and Earl Daughtry; sister-in-law Kathleen Daughtry; nephew Stephen Daughtry; nieces Annette and Elisabeth Daughtry.