Latest User Postings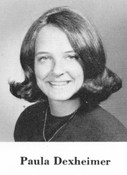 I hope you can attend the 50 year Class Reunion on September 14th 2019. I have fond memories of you when we both attended the Napa Valley College. I still live in Napa in a small two-bedroom house on First Street with my white cat.~~~I lost my late husband William M. Petersen on January 1st 2009. I kept busy and I sell jewelry from my house when the sun is shinning. ~~~~The past 6 years I have been seeing a kind and nice man that is one year older than me, but he lives 70 miles from my house. ~~~~Anyway, I hope to see you at the 50 year Reunion. ~~~Carolyn Ingraham Petersen
Hi Richard, I was just told Jack passed away. I was wondering if you were still friends and knew what happened. I'm pretty broken up about it even though it's been almost 50 years since I last saw him. We made contact a few years back and were going to get together for coffee. I believe he passed not long after contact. Also I found some pictures of you that I would like to mail you if you provide your address.
My E-mail is carolynpetersen59@yahoo.com
Marilyn was a dear friend to me. We had slumber parties at each other homes and I have only good memories of her. We also learned to square dance at a hall in Napa back when we went to Redwood Junior High School. I miss her.