In Memory
Frederick M. Rubio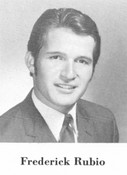 SUISUN

Fred Rubio, born Dec. 29, 1950, in Tulare, passed away Jan. 12, 2008 in Suisun. He was 57 years old.
Fred was a retired auto mechanic. He was raised in Napa and lived there for most of his life.

Funeral services will be held Jan. 18, 2 p.m., at Fairfield Funeral Home, 1750 Pennsylvania Ave., Fairfield, 425-1041. Visitation begins the same day at 11 a.m.