In Memory
William B. Crane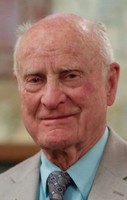 William Bradford Crane Jr.
Napa High School Band Director
Beloved retired Napa High Band director, William "Bill" Bradford Crane Jr., passed away on Saturday morning, August 22, 2015. He was born December 6, 1927 in Boston, Massachusetts to William and Harriet Crane. He moved to Ferndale, California in 1933 where his father was a music teacher. He enlisted in the Navy in 1945, serving in both WWII and Korean War on the USS Iowa. In 1949 he married his Ferndale sweetheart and the love of his life, Wilmoth Gillespie. He received his BA degree at Humboldt State and his Master's degree at Teacher's College at Columbia University in New York City.
In 1954, he and his family moved to Napa, where he taught at Redwood Junior High, Napa High, and Napa Junior College. He taught many subjects, but his greatest passion was music. His style was "to teach a lot more than just music," he taught life skills. He and Wilmy took many trips with the band to Europe and throughout the country, happily working together as a team. He retired in 1993 after 39 years of teaching in Napa Valley Unified Schools.
Here are a few of his accomplishments that lead to his legacy: Bill was a member of the Napa Valley Symphony, where he played violin and French horn, and participated in the First United Methodist Church choir and bell choir. He was also a member and president of the California Band Directors Association and received many honors, including Director Life Time Achievement Award, Napa County Man of the Year, and Napa High Teacher of the Year.
He loved the outdoors, including bicycling, gardening, hiking and trail blazing the Westwood hills, horseback riding, cross country skiing in Montana, trips to Alaska and Antarctica, and taking camping trips with his family.
Bill will be greatly missed by his brother and sister, Frank and Alice and their spouses June and Joe; his children, Terry Crane McDonald and husband Clay, Pamela Crane, Ginger Crane Faust and husband Bill, Nancy Crane, Lisa Crane; grandchildren Marriah, Noelle, Jessica, Kendall, Adam; and many great and great-great-grandchildren. He was preceded in death by his adoring wife, Wilmy in 1986 and his son William "Brad" Bradford Crane III in 2009.
He was a long time member of the first United Methodist Church. Services will be held at their temporary home, the Seventh Day Adventist Church, 1105 G Street, Napa on Sunday, August 30 at 3:00 p.m.