In Memory
Richard A. Slade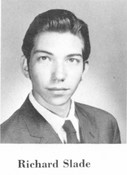 SAN DIEGO - In loving memory, Capt. Richard Alan Slade 1951-2009

Richard Slade graduated from Napa High in 1969. He fished tuna, captained, navigated and crewed his way around the world. Richard also owned and operated a charter boat called the "Young American."
Richard was the type of man that enjoyed every "guy" thing, from sports (especially golf), to wine, "Richard's Perfect Manhattan," fishing, cars and watching "The Simpsons" on TV.

He lived the life he wanted, without regrets. He loved talking about any subject brought up and could do so for hours. Richard's loyalty, humor, friendship, hospitality and love earned him a long list of friends that could go on for pages.
Richard passed away the last week of April at his home in San Diego. No services were held at the request of his mother.

He is survived by his family, the love of his life Laura Herbert, and his extended family of friends. He will be greatly missed.