In Memory
Donald C. Shroyer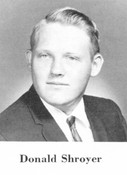 Donald Shroyer
1950-2014
Donald Shroyer passed away July 2, 2014, at Kaiser Permanente Medical Center in Vallejo. He was preceded in death by his father and mother, Clarance and Edith Shroyer; his brother, Ronald Shroyer; and his sister, Eileen Burkett. He is survived by his daughter, Brenda Shroyer; his granddaughter, Cindel Sweeden; and ex son-in-law, Timothy Sweeden.
Donald Shroyer was a man with a giving heart and a loving spirit. He will be missed.
A memorial service will be at 1 p.m. Saturday, July 19, at Family Worship Center, 109 Klamath Court just off Green Island Road in American Canyon.