In Memory
Deborah A. Long (Christman)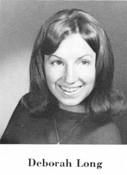 NAPA - Deborah Ann (Long) Christman passed away peacefully on Aug. 6, 2009, with her family by her side.

Born June 2, 1951, in Grants Pass, Ore., to Stan and Nancy Long, Debbie was raised in Napa and attended Alta Heights Elementary School, Silverado Middle School and Napa High School. After graduating high school, Debbie attended Sonoma State University and received her bachelor's degree in arts and education from Sacramento State University.
After college, Debbie did her student teaching in Yountville with longtime friend Beverly Kempke and then began her own teaching career in Sacramento. She taught elementary school for 27 years, most recently at David Lubin Elementary, and she had a deep love for teaching and for her students. She didn't feel that the "three Rs" were enough; she also taught her students about art, music, nature and life. She took her students to art museums and concerts and encouraged them to share her appreciation for the fine arts. Debbie brought members of the community into the classroom on a regular basis, helping her students think about their futures and the many possibilities for their lives. She was well known for inviting her students' parents into school for classroom events and her annual Mother's Day teas.

Debbie was always out and about. She loved the ocean and enjoyed walking and being outside. Debbie played tennis and violin, and enjoyed scuba diving and dancing. She often traveled to other cities and countries to visit friends and enjoy the fine arts.
An active member of Fremont Presbyterian Church in Sacramento, Debbie was always willing to help a friend or fulfill a need. She served as deacon and was someone you could call on if you ever needed help with anything. Debbie was full of joy and a woman dedicated to helping others: her family, her friends, her students and the members of her faith community. She brought her joy to each life she touched.

Debbie is survived by her parents, Stan and Nancy Long of Napa; her brother, Steven Long of Napa; her sisters, Rochelle Junkin of Las Vegas, Nev. and Loretta Long of Napa; and her uncle, Howard League of Coos Bay, Ore. She is also survived by her nieces, Sarah Baker, Miranda Sanderson and Danielle Sanderson; her nephews, Gary Baker and Cameron Long; and her great-niece, Milana Solorio.
Services will be held at the Church of Jesus Christ of Latter-Day Saints, 15 Chapel Hill Drive, in Napa, on Saturday, Aug. 15, 2009, at 2 p.m., and Debbie will be interred at Tulocay Cemetery in Napa.

Debbie's family suggests that donations in her memory may be sent to the American Cancer Society, Napa County Unit, at 1031 Jefferson St., Napa, CA, 94559 or online at www.cancer.org.

Services are under the direction of Richard Pierce Funeral Service. Family and friends may leave a condolence online in memory of Deborah at www.rpfsc.com