In Memory
Mary Lou Kenchelian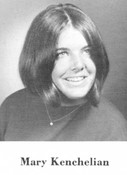 Mary Lou Kenchelian passed away in her home in Windsor on Jan. 31, 2003. Although she will be missed greatly, her spirit, strength and unconditional love will always reside in the hearts of her family and friends. From proud Armenian heritage and longtime Napa resident, Mary Lou was devoted to her home and extended family.
Mary Lou is survived by Jeff Harding, her loving husband of 17 years. Her two sons, John and Dan, were the joy of her life, and her pride in them was unbounded. She was the daughter of the late Karnig and Geraldine Kenchelian; and sister to Mark Kenchelian, Helene Franchi, Chrissie Hogg and the late John Kenchelian. She also leaves behind nieces and nephews, Sonya, Maria, Lisanne, Elizabeth, Peter and John, to whom she loved unconditionally.

Friends and family are invited to gather for a memorial service celebrating Mary Lou's life to be held on Saturday, Feb. 8 at 2 p.m. in the Windsor High School theater, 8695 Windsor Rd., Windsor.
In lieu of flowers, contributions can be made in Mary Lou's name to The Healing Center, 24 West Lee St., Seattle, WA 98119.