In Memory
John H. Ihorn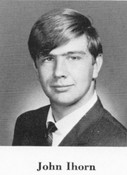 1951-2010
John Ihorn
John Ihorn, 58, passed away May 9, 2010, in Gualala, Calif. He was born Sept. 23, 1951, in Myrtle Creek, Ore., and graduated from Napa High School in 1969.
At the time of his death, John owned and cooked at the Top of the Cliff Restaurant in Gualala. Before that he worked for Coca Cola.
He is survived by his children, Shasta Ihorn of Austin, Texas, and Jubilee Ihorn of New York, N.Y.; sisters Penny Ritchie (Woody) and Lauri Baldwin (Keith); uncle Ernest Heater; sister-in-law Chris Ihorn; six nephews; and numerous cousins and friends in Gualala. He was predeceased by his parents, George and Barbara Ihorn; brother Tom Ihorn; and his best buddy since seventh grade, Gary Schnider.
No services will be held.
In lieu of flowers, donations may be made to your favorite charity.
Posted in Obituaries on Saturday, May 15, 2010 12:00 am