In Memory
Gary D. Eddleman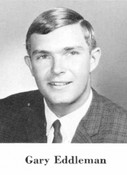 PLACERVILLE - It is with great sadness that we announce the passing of our beloved son and brother, Gary Dean Eddleman. Gary was born Jan. 27, 1951, and passed away Oct. 4, 2009.

Gary was born in Napa, graduating from Napa High School in 1969. He moved to Placerville in 1971.
He was a loving husband to Dawn and wonderful father to Sam, Alisha, Jason and Mona.

After working for PG&E, he became a talented artist in the earthmoving of dirt, working with his bulldozer. In his spare time he enjoyed playing softball, golf and bowling. Gary loved life, his family and friends, and lived life to the fullest.
Apart from his wife and children, he is also survived by his parents, Frank Eddleman and Doris Irene Eddleman, and sisters Kathie and Karen (Mark Stuart).

A celebration of Gary's life will be held Nov. 14, from 1-6 p.m., at Sierra Springs Clubhouse, 5340 Edelweiss Way, Pollock Pines, near Placerville.
In lieu of flowers, donations can be made to the First Tee or another nonprofit organization of your choice.