In Memory
Catherine L. Devita (Tye)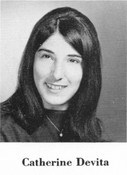 1951-2010
Catherine Lee Tye, 58, passed away at Queen of the Valley Medical Center on July 30, 2010. A lifelong resident of Napa she was born on July 31, 1951, to Leo and Marie DeVita.
She graduated from Napa High School in 1969. Catherine was a hairdresser for 13 years. Then she went to work for Vallerga's Markets for 25 years as a clerk. After she retired from Vallerga's she started a catering business called "Tye It Together." As hobbies she liked to travel and entertain people. Catherine was a member of the Retail Clerks Union and the Napa Valley Country Club.
She is survived by her son, Michael Roberts; her mother, Marie DeVita; her sister, Gail Martin and her husband, Philip; a niece, Lisa Adams; and a grandson, Andrew Roberts, all of Napa. She was preceded in death by her father, Leo Devita.
"Remember me with smiles and laughter for that is how I will remember all of you. If you remember me with tears then don't remember me at all."
A memorial service for Catherine will be held Friday, Aug. 6 at 2 p.m., at the Claffey and Rota Funeral Home, 1975 Main St., in Napa. Memorial contributions may be made to the American Cancer Society, 1031 Jefferson St., in Napa. Condolences to the family may be sent to www.claffeyandrota.com
Posted in Obituaries on Monday, August 2, 2010 12:00 am