In Memory
Ronald L. Belair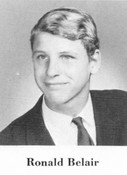 Ronald (Ronny) Louis Belair
December 15, 1950 – October 18, 2017
Ron was born in San Francisco, the fifth child of seven children, to the parents of Albert and Edie Belair; they later moved to San Jose and then Napa. Ron discovered his passion for music and drumming at the age of ten, which turned into a lifelong career in music. He met his beautiful wife, Julie, at Harrah's while passing through Lake Tahoe as a traveling musician, and eventually stayed after falling in love with his sweetheart, in 1975.
Ron was a well-known musician, drummer, vocalist, composer, and teacher; who worked for many non-profit organizations, and generously volunteered his time to others within the Lake Tahoe basin. His passion for music was infectious, it was what he lived for and meditated on for all the days of his life. As described by his best friend and artist, whom he greatly admired: "Ron's [composed] music is uncompromising. Honest and stubbornly unique in his art, Ron refused to follow trends. He always aimed to express the hidden nuances and understanding of life through rhythm, melody, and voice. Ron became a master of transforming his impression of eternal truth into beautiful, often otherworldly sound. The collection of work Ron leaves behind is a testament to his tremendous artistic effort and his creative talent."
Other wonderful interests that Ron enjoyed include: playing baseball and surfing in his youth; gardening; reading; writing; fishing; sharing his insightful and profound revelations about life and spirituality; watching his lifelong favorite baseball team, the Giants; and spending quality time with his family. He was loved by friends and family for his silly, out-going, gregarious, and fun personality. His passionate, fiery, gentle, loving, spiritual, creative, and insightful nature, will forever be missed.
Our beloved Ronny passed away on a beautiful fall morning, peacefully surrounded by his loving family. His legacy lives on through his wife, Julie; his daughters: Jessica, Sarah, and Christy; his son-in-laws: Rex and Danny; his grandchildren: Tycen, Jackson, Isaac, Coralie, and Bastian; his brothers, sisters, nieces, and nephews; and his fellow musicians and friends.
A memorial service will be held on November 11, 2017, at 11:00 A.M at the Lake Tahoe Golf Course; 2500 Emerald Bay Road; South Lake Tahoe, California 96150.
"I'm going to go into this world, hand-in-hand, with a purpose in my heart. And I'm going to write music about it, and that music is going to express my absolute love that I have for God, my creator, in the name of my friends, in the name of the creator, and in the name of all that is good. Amen." – Ronny Belair