In Memory
Stephen C. Lorente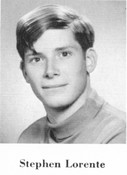 ANACORTES, Wash.

Stephen Charles Lorente was born April 20, 1951, to former councilman Malcolm Alejo Lorente and his wife, Ruth Lorente, in Lynn, Mass. He entered into rest suddenly and unexpectedly on June 7, 2007, in Anacortes, Wash.
At age 2, he moved with his family from Massachusetts to San Francisco, where he attended elementary school, joined Cub Scouts, the YMCA and served as an acolyte in church.

In 1961, the family moved to Napa. He continued in Scouts until he received his God and Country Award. He played clarinet in the band and sang in the chorus in junior high school, and after graduating from Napa High School, he attended Napa Community College, majoring in political science until he was encouraged to concentrate on his artistic ability by friends and faculty. He later graduated with honors and a BFA from California College of Art in Oakland.
As a student, he taught art to sixth-graders in San Leandro. After graduation, he continued to tutor private art students. A firm believer in supporting young artists, as an alumnus he sponsored a student who has since graduated from CCA. In Napa, he also founded the Syncretic Art Institute, where he encouraged other local professionals to help aspiring young artists. He decorated his father's pool hall and worked there, learning Spanish.

As a professional, his paintings were shown in San Francisco, Napa and Anacortes, Wash., where he later joined his family. He was married and divorced twice in California.
In Napa, a doctor's error caused a breakdown in his physical body, culminating over many years in total physical disability. While losing the ability to hold a paintbrush, he used other media, continuing his use of joyful, vibrant colors and fanciful designs. He fought his disability by pushing his body and brilliant mind beyond normal limits. He continued wilderness backpacking and camping and rock climbing.

An avid reader, he loved history and studying cultures. He studied Greek and took delight in reading the Bible in Greek. He lived almost a year in Mexico and later in Guatemala. He particularly enjoyed living in villages with natives and recently returned from a six-week stay on an island in Nicaragua. In Napa, he became a compassionate advocate for farmworkers. His love for music encompassed all, from baroque to his favorite, Celtic folk songs.

Besides teaching, painting and sculpting, he had worked as a baker, in construction, at Napa State Hospital and as a landscape gardener, among other opportunities to be with people involved in physical occupations. He loved church, birds, gardens and long forest walks. His friends loved his quick wit, his smile and sense of humor. He was a loyal, respectful friend and a devoted son.

He leaves his parents, Ruth and Malcolm Lorente of Anacortes, Wash.; brother Philip; brother and sister-in-law David and Mary Pat Lorente of Mount Vernon, Wash.; his fiancée, Phyllis Shoultz of Anacortes, Wash.; a niece, Emily Lorente of Mount Vernon, Wash.; nephew Andrew Lorente of Salem, Ore.; an aunt, Arline Dowdy of Richmond, Va.; and many cousins.

In lieu of flowers, donations may be made to Alumni Scholarship Fund for Need, California College of Art, Oakland; or the National Arbor Day Foundation.

Arrangements have been entrusted to the care and direction of Affordable Burial & Cremation Services of Mount Vernon, Wash., (360) 424-1002. Cards of condolence may be sent to the family in care of the funeral home.